INVESTMENT BENEFITS
Packaging is more than just the box or envelope that an order arrives in. For the recipient, it's the first part of the overall experience of interacting with an e-Commerce company in the real world. For an e-Commerce business or company that also sells products online, packaging is a means to connect with a customer.
An investment in custom e-Commerce packaging is an investment in:
Fewer returns for damaged products
Better unboxing experience
Reduced waste
Cost-effectiveness
Upgraded real-world exposure
1. FEWER RETURNS FOR DAMAGED PRODUCTS
When customers receive a product that's been damaged in transit, it's frustrating and usually leads to a return. Custom packaging helps reduce the number of damaged returns by ensuring that products are more securely packed and arrive at their destination in one piece.
Regardless of fragility, a well-designed custom package features thoughtful and adequate protection for products while in transit. It's also a buffer for your business – returns and replacements cost money.
2. BETTER UNBOXING EXPERIENCE
A well-designed custom e-Commerce box can set the tone for the entire unboxing experience. It can create a sense of anticipation and excitement, leading to a higher rate of customer satisfaction.
Ease of opening is an important consideration for a good unboxing experience. When opening the package is easy and frustration-free, it makes the entire unboxing process more enjoyable for customers. Easy-to-open packaging also helps reduce the likelihood of damage to products during unpacking.
3. REDUCED WASTE
Put simply, custom packaging reduces waste.
Designed specifically for the items it's protecting, custom packages only use what's needed. Both you – and your customers – won't pay for unnecessary materials and scrap is minimized.
Packaging with a lower environmental impact is becoming increasingly important to consumers. Businesses that invest in custom packaging with an eco-friendly design are more likely to stand out from the competition and attract environmentally conscious customers
With integrated recyclable materials, sustainable custom packaging goes to the next level in reducing the amount of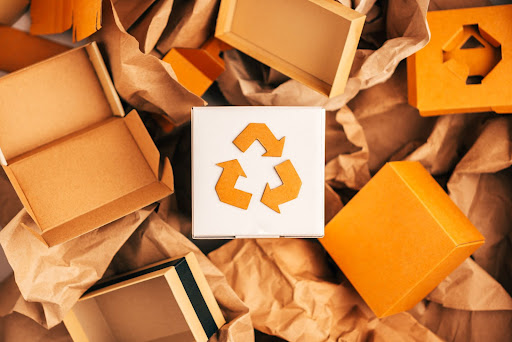 materials that end up in a landfill.
4. COST-EFFECTIVENESS
Custom packaging doesn't have to be expensive – in fact, it can often be more cost-effective than using standard packaging from a supplier.
How?
Generic packaging is one-size-fits-all. Custom packaging is tailored to fit your specific needs. That means you won't have any wasted space or unused materials. Everything about your packaging is concise and serves a purpose.
5. UPGRADED REAL-WORLD EXPOSURE
A well-designed custom e-Commerce box promotes your brand in the real world. For companies that don't have a physical storefront, custom packaging can serve as a way for customers to see and interact with your brand outside of the online space. In other words, it's the only physical contact they'll have with your business.
Plus, it's an opportunity for repeat advertising as customers may keep and reuse the packaging. When customers see your product being used in everyday situations, it helps create a connection between your brand and your target audience.
SUSTAINABILITY
Now more than ever, consumers care about their impact on the environment. That concern extends to the products they buy and the packaging their purchases come in.
Beyond consumer demand for green products and environmentally friendly packaging, governments worldwide are introducing new regulations for both. For instance, London implemented a Plastic Packaging Tax in April 2022, while throughout the U.S. many states have outright banned single-use items often found in e-Commerce packaging.
For e-Commerce businesses, focusing on green packaging presents a unique opportunity to be a leader. Nothing pleases an eco-conscious customer more than a company actively working to reduce its impact on the environment and meeting all regulatory requirements. With sustainable e-Commerce packaging, this effort reassures consumers that you are taking care of the environment.
However, staying in sync with green trends and laws is challenging, especially on a global scale. With an e-Commerce packaging provider as a partner, you'll have another set of eyes and ears paying attention to the latest changes.
Sustainable Packaging:
Eco-friendly e-Commerce packaging, such as reusable, recyclable, or biodegradable inner packaging and outer boxes, shows customers you are making an effort to reduce your carbon footprint. Therefore, the unboxing experience should not only provide quality but also show you are in tune with your customers' interests.
An investment in brand packaging puts your name and your story front and center - before your customer even opens the box. Likewise, simplicity and class in presentation can leave a lasting impression - and increase the odds of a repeat purchase.
The key is balance - investment in both product and packaging to make sure the user experience is satisfactory from unboxing to product use.
INDUSTRIAL PACKAGING | 3 CATEGORIES
When it comes to planning for the various stages in your product's shipping journey, knowing the three levels of industrial packaging is crucial. Knowing which category is suitable for each package you ship ensures proper packaging and personalization when necessary. The three categories of packaging are:
Primary - packaging your customers take home
Secondary - packaging used to group various materials, such as stretch film, boxes, and trays
Tertiary - packaging for transportation purposes (cartons, warehousing, and pallets)
E-COMMERCE PACKAGING INFLUENCES: DETAILS MATTER
Optimizing your shipping process is a strong step toward increasing revenue. When it comes to the size of the box, the reliability of the material, and the level of protection your product receives, there is no room to compromise.
SIZE
The size of the package you use is one of the best ways to prevent shipping damage. Cramming items into a too-small box can damage the items in shipping, resulting in returns and dissatisfied customers. The same goes for boxes that are too big and don't contain enough protective packaging inside.
EFFICIENCY
Efficient packaging materials have a significant effect on the products you ship.
Paperboard and plastic materials are commonly used for shipping because they are lightweight and provide adequate protection for your items. Corrugated cardboard is a popular type of packing because it's:
Lightweight
Sturdy
Recyclable
Cost-effective
PROTECTION
The primary purpose of proper packaging is to minimize exposure to the elements and any damage to the items you're shipping. Poor warehouse and external conditions can damage your products, but using the proper packaging adds an extra layer of protection.
E-COMMERCE PACKAGING OPTIONS: TESTED AND REINFORCED
E-Commerce packaging solutions should be fine-tuned based on the size and fragility of your product. Likewise, considerations for efficiency and reliability of the corrugated box you choose and the protective packaging for within depend on the product being shipped. With some time and attention to detail, the product should be in optimal condition upon arrival.